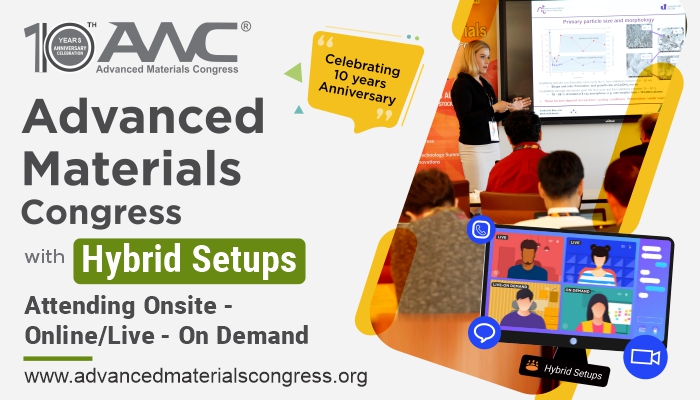 IAAM is celebrating 10th anniversary of Advanced Materials Congress (AMC) in 2021. To provide highly interactive exchanges in materials science, engineering and technology, AMC demonstrates unified hybrid participation setups for example 1) Onsite physical attendance at venue, 2) joining Online/Live through internet and 3) On-demand presence as per convenient. Advanced Materials Congress with Hybrid Setups connects physical delegates (face-to-face) to digitally connected virtual participants from different countries of multiple locations to present, publish and participate in discussions with flexible features of interaction, broader accessibility, and easy navigation of experts.
Advanced Materials Congress with Hybrid Setups creates cohesive interactive opportunity to participants through onsite, online and on demand engagements, where participants feel freedom of movements in and out of sessions & symposium depending on choice of topical interests, experts' lectures/exhibitions, and availability of time.
Advanced Materials Congress with Hybrid Setups
Advanced Materials Congress will run with Hybrid participation Setups (Onsite, Online/Live and On-demand) at seven different regions including Europe, America, Asia, Africa, Middle East, South America and Australia using integrated conference technology that generates opportunity among delegates to extend their presence with respect to exchange of research, networking, discussion, and publication more accessible than ever before.
Broadcast your Participation at IAAM' Hybrid Congress Setups!
Offer all participants under Onsite, Online/Live and On-demand delegates through a protocol link to the computer or mobile for creating an interactive, and exciting meeting with physical and live online Q&A session. Parallel sessions can be assessing through the on-demand post-production materials even after the conference date. This is how the IAAM' Hybrid Conference Setups works:
Physical delegates (face-to-face) have moderator, organizer, session chair, panelist, and key speakers at the conference venue.
Online/Virtual participants (digitally connected) have speakers, panelist, and participants, who can join a conference through online links from anywhere in the world.
On-demand attendance through online and/or offline and access online and/or the post-production materials even after the meeting.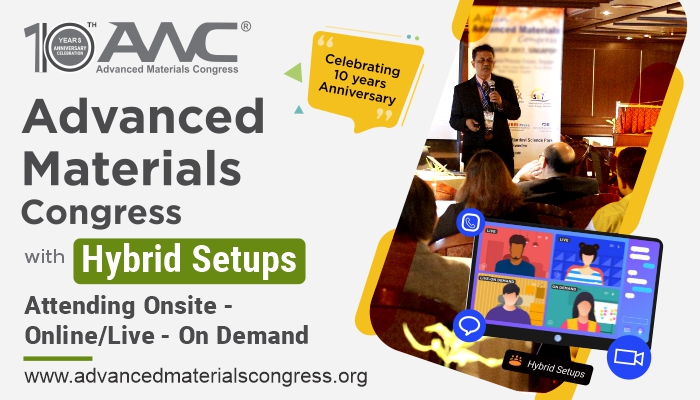 Concurrent Features and Operational Overview of the IAAM' Hybrid Congress Setups!
IAAM' Hybrid Congress Setups create a seamless fusion experience by utilizing the web communication, digital recording, online and offline technologies to allow more engagement and participation than ever before. The conference venue will be outfitted with an online gadget such as computer, microphone, and camera with high-speed internet connections, so that participants can join live online conference and connect with speakers/presenter and other delegates.
Amazing topic-driven experts: The right speakers can elevate conference content and motive. IAAM Hybrid Setups transformative in arranging right and diversified experts across world at single platform via schedule topic-driven conference.
Digital communications: Technology provides new communication tools that were not available before. Seamlessly broadcast live stream video available in real time manner to IAAM Hybrid Setups.
Networking support: Mobile-friendly interface generate universally available best-in-class, chat-email support to ensure round the clock connectivity between the participants.
Analyze conference materials and participants: This creates physical and digital participation environment for real time attending the conference, access of quality content, collaboration possibility and publication.
Comprehensive Account of IAAM' Hybrid Congress Setups
Coordination between onsite and online platform of conference through registration desk and conference landing pages via customized monitoring of attendee database.
Real time monitoring of visual intuitive of session & lectures in the onsite and online setups of conference by offering easy navigation to landing in the event.
Flexibility generated in booking, enables attendees to participate ease with substantial information via physical, videos, images & more on-demand documents.
Hybrid Conference works on sustainable model, via eco-friendly adaptation through saving unnecessary travel of all experts, attendees and utilizing digital documents policy.
Benefit of Presentations in IAAM' Hybrid Congress Setups
Broadcast your in-person presentation to broader community with increasing audience reach.
Connect with distant experts along with opportunity to network.
Coordinate participants simultaneously for onsite and online together
Joint delivery of in-person presentations with on-site and online conference management.
A Mobile-Friendly and easy to manage from any part of world with the feelings of active participation.
Live streams will be placed on the web, so participants from distant locations can view the conference.
Live presentations recorded regularly so even after presentation it can be accessible by participants through archive at their leisure.
Management Roles in IAAM' Hybrid Congress Setups
Participants can join LIVE conference rooms, with a login details provided by conference organizer. Each session will involve the following support roles for easy presentation.
Session chairs make sure effective supervision all over such meetings.
Moderator works as admin for conference support.
Admin technical support, hosts the online meeting in virtual platform such as zoom or google meet etc.
Admin database management ensures hybrid conference interface facilitates throughout such as all streaming, live webpage, recorded session, etc.
Highlighted Features at Instance
The most important features that will compel you to move Hybrid Congress Setups are:
Worldwide experts' presence and highly interactive both at onsite and online
Conference session links with live Q&A tools
Live streaming along with pre-recorded sessions
Customized registration form with on spot registration
Single registration for immediate access to all sessions
Real-Time chat options to leverage the answer and assist participants
Instant support system with chat messaging
Backgrounds to create a virtual environment
Mobile friendly and easy to handle
Integration with social media platforms
Polling tools for immediate decision
Personalized data protection policy
Join upcoming Advanced Materials Congress with Hybrid Setups
Advanced Materials Congress will run with Hybrid participation Setups (Physical, Online/Live and On Demand) at seven different regions including Europe, America, Asia, Africa, Middle East, South America and Australia. For more information, please visit: